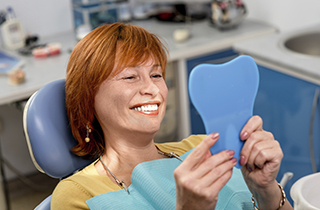 At Approved Dental Care, we understand the importance of professionalism, expertise, and excellence. That is why our staff is committed to serving each and every patient with respect, attentive care, and thorough dental work. As a patient, you deserve nothing less.
Our practice provides general dentistry procedures including the prevention, diagnosis, and treatment of a wide variety of conditions and diseases that affect your teeth, gums, and oral health.
The mouth is a small aspect when it is compared to the rest of your body, yet it remains one of the most, if not the most, important parts of our body. Many doctors, physicians, and dentists believe that the mouth is connected to the rest of our body. Scientific articles have even shown direct links between our oral health and its relation to overall health.
We Are Committed to Your Oral Health
At Approved Dental Care, we are committed to ensuring your mouth is in excellent condition. We make this possible through a variety of different procedures that all aim to improve or enhance your mouth's well-being.
Our Staff
(Lupe) I am 27 years old and I have been in the dental field for 7 years. I am very happy to be working in a fun and a friendly office and I am very excited to meet new patients everyday.
I received my degree in West Los Angeles School of Dentistry in 2000. I enjoy shopping and spending time with my family. I love helping and being a Dental Assistant. I also love music, movies and travelling.
(Anna) I am originally from the Philiipines and moved to California 6 years ago. I started working in the dental field for over 5 years and take pride in what I do. For me, Dentistry is a very rewarding career. I love our office and love the people that i worked with. We are committed and dedicated to our patients and we hope that our patients will feel comfortable and enjoy their visits as much as possible.
I enjoy shipping, travelling, cooking, spending tme with my daughter Trisha and friends and watching 24..... Keifer Sutherland.
(Angie Cortez) I am very excited to be working in this fun and friendly dental office. My co-workers are wonderful and so is our patients. My husband and I are both in the dental field. I am a dental assistant and he is a dental technician. We are very glad and greatful we choose such a rewarding career.
I grew up in Long Beach, California.
I have two kids and two dogs. I enjoy movies, shopping for my kids and most of all, spending time with my family and friends.